January 1, 2014
I don't do New Years resolutions.  To be honest I think they're stupid.  Why do we have to wait until a new year to try to be nicer to people or lose weight or make positive changes in our lives? Shouldn't this be something we're interested in all year long? Not only that, but most people make their resolutions and then forget about them within a week.  The one thing that won't be forgotten though are God's promises. God's promises will be fulfilled regardless of what resolution I write down.
2013 was an interesting year for us.  My grandpa passed away, my dad and Brock were laid off from the mill, and my parents made the decision to leave the town they both (and Brock and I) grew up in and move across the country. None of this is what I had planned for our life, but I know it's all just part of a bigger picture that we can't yet see. If 2013 wasn't your best year, I am praying that 2014 brings you new beginnings.
Happy new year friends. May this be your best year yet!
December 8, 2013
But Samuel replied, "What is more pleasing to the Lord: your burnt offerings and sacrifices or your obedience to His voice?  Listen! Obedience is better than sacrifice, and submission is better than offering the fat of rams." – 1 Samuel 15:22 (NLT)
Obedience – this seems to be a common theme throughout my life lately.  Anyone who knows me, knows that I am extremely stubborn and don't like doing anything outside of my comfort zone. I like to be in control and get extremely anxious when I don't know what's going to happen.  Let's just say the day-to-day is quite interesting because my life is currently one big question mark. On the verge of sounding crazy, I feel like God has been asking me to do a lot of "little" things lately as a sign of obedience. I have been asked to do things way outside of my comfort zone and things that I would normally never do or even think of doing.  I have argued with God and cried at the kitchen table because I don't want to look stupid but again and again I am reminded that it's not about me. It is a very humbling experience when God uses you to bless someone else.  Even more so humbling is it when God uses someone else to bless you.
Lately I have been obsessed with the song "Oceans" by Hillsong United.
"Where feet may fail and fear surrounds me, You've never failed and You won't start now."
Amen!
You call me out upon the waters
The great unknown where feet may fail
And there I find You in the mystery
In oceans deep
My faith will stand
And I will call upon Your name
And keep my eyes above the waves
When oceans rise
My soul will rest in Your embrace
For I am Yours and You are mine
 Your grace abounds in deepest waters
Your sovereign hand
Will be my guide
Where feet may fail and fear surrounds me
You've never failed and You won't start now
So I will call upon Your name
And keep my eyes above the waves
When oceans rise
My soul will rest in Your embrace
For I am Yours and You are mine
Spirit lead me where my trust is without borders
Let me walk upon the waters
Wherever You would call me
Take me deeper than my feet could ever wander
And my faith will be made stronger
In the presence of my Savior
I will call upon Your Name
Keep my eyes above the waves
My soul will rest in Your embrace
I am Yours and You are mine.
I think it will always amaze me how God works in our lives, sometimes despite our best efforts. Has anyone else felt challenged like this lately?
Add a Comment • Posted in: Married Life
November 25, 2013
Here's a quick Music Monday post of a song I've been loving lately.
I was first introduced to Imagine Dragons on an episode of Gossip Girl a couple years ago. Yes I know, very classy. Hah!  Now they're blowing up every radio station I turn on.
The chorus of this song is so catchy I can't help but love it!
I hope you all have a wonderful Thanksgiving celebrating with your loved ones!
Add a Comment • Posted in: Married Life
November 20, 2013
Being born and raised in northern MN I used to joke that the spiciest thing I ever ate was ketchup. That's obviously an exaggeration but growing up we survived more on meatloaf and baked potatoes than Mexican food. I'm not sure what kind of bug got in me this last year but I've been eating and craving spicy food like none other.  Frank's Red Hot has become a favorite condiment now and I wouldn't have it any other way. That all being said, this recipe has become a favorite in our house lately. I love it because it's so quick and ridiculously easy to make, and Brock loves it because it tastes good.  Salsa chicken is a winner!
(Confession: I tried to take decent pictures of the chicken that I made but it was an epic fail so I borrowed this one.)
Ingredients
4 skinless, boneless chicken breast halves – I usually cook more so we have leftovers.
1 package taco seasoning mix
1 jar of salsa (you can choose, mild, medium or hot depending on your taste)
Cheddar cheese
Sour cream (optional)
Tortillas (optional)
Instructions
Preheat oven to 375 degrees F (190 degrees C)
Place chicken breasts in a lightly greased 9×13 inch baking dish. Sprinkle taco seasoning on both sides of chicken breasts, and pour salsa over all.
Bake at 375 degrees F (190 degrees C) for 25 to 35 minutes, or until chicken is tender and juicy and its juices run clear.
Sprinkle chicken evenly with cheese, and continue baking for an additional 3 to 5 minutes, or until cheese is melted and bubbly. Top with sour cream if desired, and serve.
Add a Comment • Posted in: Married Life
November 2, 2013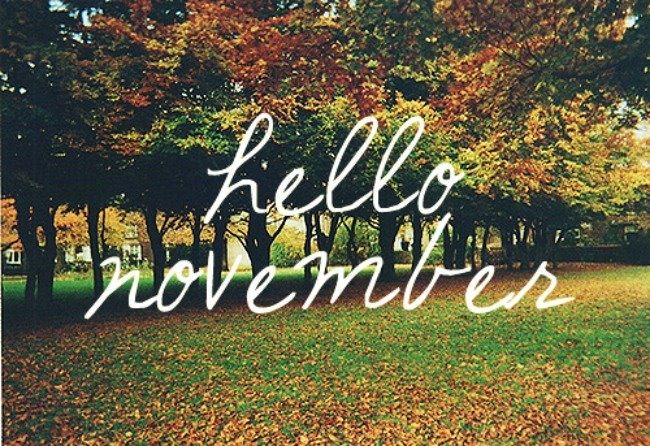 Fall is always a strange time of year for me.  It's the season where beautiful things shrivel up and die and are eventually hidden by a blanket of snow. It's the time where I'm forced to spend more time inside, and bundle up, and wear real shoes when I leave the house. Autumn is what I consider the end of a season and the reminder of a promise.  A promise that even though things on this earth are not permanent and we will endure trials, new life will come and God is faithful.
I have never been as confident enduring a trial as I have these last couple months. I have never been so sure that God is in control and that something will work out as I am right now.  Brock and I are at a point in our lives where we don't know what direction we're supposed to go in or where we're supposed to be.  Every direction we've tried has steered us somewhere unexpected,  and has eventually led us back to right where we started. And so, I've made a conscious decision to not decide much at all. I'm going to enjoy where we're at and not worry about the future.  I am going to remain steadfast that the doors God has closed are for good reason and the right ones will open in His timing. Faith – that's what life is all about isn't it? November is a month for thankfulness, and I am so thankful I have a God who is in control.
Add a Comment • Posted in: Married Life